All the effort in the world will come to nothing if you're unable to do what needs to be done to get the customer over the line and secure a sale. In a recent research study by Conversity, 'Supercharging personalisation: behaviour and attitudes in telco buying decisions' questions were asked about the emphasis customers put on various touch points of the customer journey. What would make them more likely to buy? Was there such thing as too much information? In a world where customers are notoriously able to glean information they want for themselves, was there such thing as too much human interaction when making a purchase decision? Here's what they had to say…
The Channel of Choice – Online Demands Your Attention
Gone are the days when retail stores were the dominant force for closing out sales, with online taking its place at the top of the pile.
When asked how many telecoms providers a consumer visited online before making a purchase, just over a quarter (26%) of respondents said they visited only one Telco provider online before making a purchase, with this being relatively stable across income brackets. This leaves 54% who consulted at least two, and a fifth (20%) who didn't shop online at all.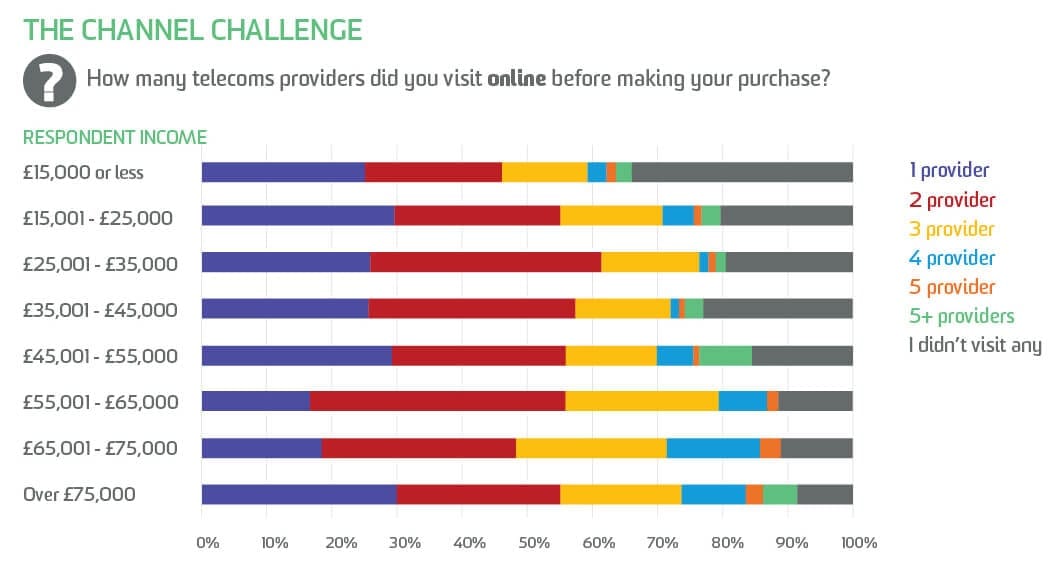 When all the research and deliberation is done and dusted, the above chart shows that online has taken over as the channel of choice when it comes to buying both directly from a network provider or a third-party, regardless of income. Consumers are hungry for online, so it's crucial that telcos are able to make the most of it.
But how do you make up for the absence of human interaction that is so important in-store? How do you increase average order values in a channel that traditionally contributes the lowest in terms of revenue? The answer lies in the form of improved personalisation, and customers say this is best achieved through technology that is able to tailor the customer experience more accurately – enter intelligent guided selling platforms. Telcos should focus efforts completely on providing the very best online journey, investing in tech that more than makes up for the in store 'human touch'.
The Human Touch. The Telco Customer Interaction Balancing Act
Almost three-quarters (74%) of respondents in Conversity's study thought a sales advisor taking the time to understand their needs when choosing the right telco product for them was important, rising to 83% for those customer experience-oriented millennials.
But, how much human touch is too much human touch?
22% of respondents said they liked to make their own decisions about what to buy, a statistic that on its own might question the validity of sales advisors. But before telco businesses start to pull their valuable human knowledge hubs from the shop floor, it's important to note that the same proportion value the input of sales associates and use them to support their own research. This points to a need for a balanced approach to personalisation. Customers expect companies to have a complete view of their relationship and to personalise the dialogue accordingly. Telcos must place effort on enhancing personalisation via their sales advisors in a way that respects the customer's independence. There's no better way to do this than to empower staff across all sales channels to provide a service that ticks all the right boxes in terms of what a customer is looking for, and does it as efficiently as possible.
Global Management firm AT Kearney put it well when they said, 'So-called digital natives have grown up with digital technologies and will soon comprise 50% of the population. These tech-savvy customers are gravitating toward companies that find the optimum balance between automation and direct interaction—and that know the right time to reach out unsolicited.'
Focus on Selling Additional Services
Almost half of those polled in the Conversity research report (49%) planned to purchase additional services from a telco provider before they began their research, which gives an idea of how telcos should be approaching their selling efforts. But perhaps even more importantly, there are wins to be had from those who weren't planning on purchasing additional services. 37% of those polled were persuaded to opt for cross-sell opportunities after seeing deals online, rising to 42% for four-person households. With the rise of 5G and the likelihood customers will be looking for joined up telco services, this is an opportunity that shouldn't be missed.
One area for development is that of sales associates persuading customers to go for additional services, as this figure stands at just 8%, and drops to 6% for four person households. This is despite the fact that 43% of respondents made additional purchases alongside traditional telco products, and 29% purchased in-store. Make sure you have attractive cross sell deals ready, and make sure your sales advisors know the right time to divulge them.
Make sales Information Crystal Clear
Sounds pretty obvious, doesn't it? Well maybe so, but when polled, customers placed specific emphasis on the importance of high-quality product information, personalised recommendations and helpful, knowledgeable sales advisors. When it comes to in-store shopping, two-thirds (67%) of respondents said sales information being readily available is important. This rises to 77% for millennials and drops to 57% for baby boomers. Almost three-quarters (74%) think a sales advisor taking the time to understand their needs is important, rising to 83% for those customer experience-oriented millennials. Online presents a similar picture: 78% of overall respondents see the quality of detailed advice provided online as important, rising to a cool 86% amongst millennials.
The bottom line? Skimp on good product information at your peril.
—
Consumers expect interactions with their telco to be differentiating, available, digital, seamless, and simple. To meet these demands, many providers are already simplifying products, services, and processes, and that is important. But every contact with a consumer is an opportunity to stand out from the competition and add value, so the best telcos go even further: they define and manage customer interaction elements just as carefully as they define and manage product specifications.
Do Not Falter – It's Tech that Drives the Sales say Customers
There's a lot to be learned from those who didn't have a good experience with their telco provider, especially from less than forgiving millennials. Of those who were dissatisfied in some way, 16% said they'd consider avoiding the provider in question in the future, which shoots up to 25% for millennials. 13% delayed their purchase, 12% made a complaint to the provider and 12% purchased a product that wasn't right for them.
Delays to purchases will inevitably have a negative impact on bottom line, but selling someone the wrong product or service also increases return rates and propensity to call (PTC). Implementing intelligent guided selling software is helping telcos across the world to better understanding customer needs and reduce dissatisfaction.
Enter guided selling and which technologies would help make it easier for consumers to make a decision more quickly and with better service…
29% of respondents would like tech to enable them to compare product and feature benefits (remaining relatively static across all three generations). An additional 28% would like it to provide detailed information on what they're thinking about buying, and 23% would like easier checkout and payment processes (rising to 27% for millennials). IGS has the ability to make all of these things a reality.
With competition so fierce, there's lots that you can do as a telco to further transform your business and make yourself an ever more attractive prospect to consumers. Improving the way you personalise the customer experience is crucial here, and IGS can play a pivotal role in this pursuit.
IGS enables you to accurately personalise the experience for each individual customer regardless of the complexity of their preferences. This can be hugely powerful in driving improvements to NPS and reducing miss-selling, especially with switching set to become easier for consumers. Essentially, IGS is a powerful tool in enhancing the omni-channel experience, ensuring that you're able to cater to the preferences and needs of people from different generations, income brackets or family sizes.
To find out more about IGS or discuss how you can implement it into your telco business, get in touch.
Download the full Conversity telco report, 'Supercharging personalisation: behaviour and attitudes in telco buying decisions'.
The Conversity team.