As millions of people remain under government restricted home isolation as a result of Covid-19, the seesawing nature of online sales continues. Whilst clothing and footwear have seen a slump, the prospect of weeks trapped at home has seen Britons embark on shopping sprees, with sales of DIY, electrical equipment, health products including vitamins and minerals, entertainment and gardening items all flying off virtual shelves. Traffic studies by Mapp show that during March, online orders globally rose by 88%. (Internet Retailing)
UK data from Criteo's Shopper Network, which analyses over $900bn of global spending by 2 billion shoppers every year, has revealed that transactions at major UK retailers are at 170% of their seasonal average, with online desktop browsing on retail sites having approximately doubled during daytime working hours and an evening increase of around 20%.
A helping hand for health online
As face-to-face contact is being kept to a minimum and health is forefront of most people's minds, consumers are going online to fulfil their healthcare needs. Supplement firm Healthspan cited that sales had tripled as consumers flocked to buy Vitamin C amid claims the nutrient could help protect against coronavirus. Revive Active, an online supplements provider, saw such unprecedented demand from consumers using their Supplements Selector Tool to choose the right vitamins and minerals that they temporarily sold out of numerous items. Results from Conversity's intelligent guided selling platform for McCabes, an online pharmacy, saw a 181% increase in online sessions over the past six week, with a 279% increase in the number of products added to basket. The online pharmacy, which saw initial upturn in visits saw a 'halo' effect, with customers gravitating towards the guided selling platform for La Roche skincare and a big increase in sales.
CREATE CONNECTIONS 
Guidance, advice and conversation = increased confidence and conversion
It is clear that consumers are first and foremost in desperate need of guidance and advice from retailers online, especially when shopping for items they would previously purchase in store with the help and recommendations of sales advisors. In the case of McCabes and Revive, both have reaped the rewards of 'conversational search' or 'c-commerce' – creating guided sales journeys that create connections with consumers and steer them to personalised results through a series of simple needs-based questions.
Make easy. Make it personal.
Consumers are feeling the pressure and are busier than ever, with many struggling to juggle 'the new normal'. Consumer confidence is low and many are now increasingly sensitive to price, suitability and delivery timescales to name but a few. As a rule, online shoppers are faced with relatively cold, mathematical language when shopping online – it rarely feels warm and even less so, personal.
Conversational search compensates for this lack of personalisation and warmth in the shopping experience, allowing retailers to create highly personalised shopping journeys that embrace each customer and their own personal preferences and needs.
When Toys R' Us launched their 'Lego Gift Finder' tool with help from Conversity, the goal was to make sure customers could discover the very best recommendations based on 'in the moment' real time needs. Five simple questions gently probed to ask who the Lego was for, their current ability and knowledge, their interests were, price point and personal preferences – drilling down to deliver unique recommendations from a vast and complex product offering. Research shows that customers who recognise a retailer 'sees' them and understands their needs has increased buying confidence, loyalty to propensity to repurchase or add further items to basket.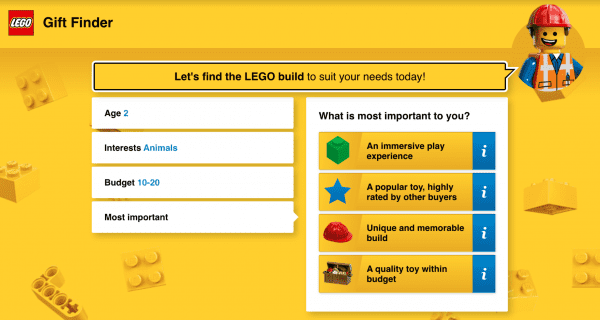 Why implement Conversational Search?
Add the human touch online
Increase basket size
Increase conversion
Increase customer acquisition
Increase NPS scores and loyalty
At Conversity we're in the business of making complex online journeys, simple. Our platform offers a fast, cost effective way to increase conversion, loyalty and average order values by:
Putting customer needs first – reducing complexity at this time is more important than ever; our platform uses dynamic questioning to understand individual customers' mindset and requirements
Being able to meet urgent requirements – elastic search guarantees that at least one product will always be recommended important when stock & supply fluctuate
Handle surges in online demands – real time buyer motivations and journey insights allow for a better ability to plan over the coming months
Encouraging brand engagement and belonging – with stores closed and call centres understaffed, there is little opportunity for a human advisor led experience.  Customers need alternative ways to get the purchase guidance they need to empower them to buy. Our customer-focused journeys that have conversational search and empathy at their core provide this connection and develop brand affinity with customers
We can help companies get data organised fast, and be up and running in a matter of weeks with smart needs based IGS, a conversational approach to search experiences – that will help removes stress from online shopping and provide the advice, reassurance and human touch needed right now as well as helping businesses survive and thrive in the difficult times ahead.
Enter your details on our Covid-19 specific form, here or email us info@conversity.com.