Customer behaviour and attitudes in telco buying decisions
Download this report based on original research carried out by Conversity, examining the habits of consumers when shopping for telco products and accompanying services like broadband and TV packages. We dig deep into the mindset of consumers of varying ages, demographics, and income brackets, establishing what you can do as a business to support each customer in making the right purchase and nail those all-important upsell and cross-sell opportunities during the telco customer journey.

Understand purchase journey, cross-sell & service mindsets by downloading the report for FREE, now.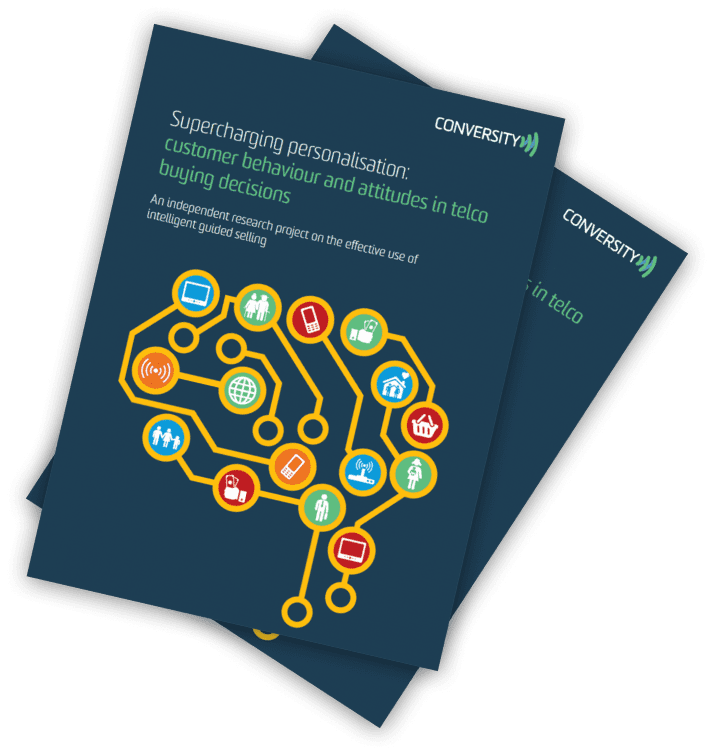 For more information on how we process your personal data, please visit our Privacy Policy.
This is what you can expect to see in the report
Know their habits
Learn more about how often consumers buy new phones or telco services, how they do their research and why they switch providers.
Right time, right place
How long do customers take, how many providers do they consider when searching telco e-commerce and what is their preferred channel?
Cracking the cross-sell
Work out what you can do to sell quad-play and telco related products and services more frequently online and in-store.
Go on, seal the deal
What is important to customers in helping them make a final decision throughout the telco customer journey?
Personalise, optimise, maximise
How the human touch is far from dead in the telco customer experience.
Enter IGS
How intelligent guided selling can play a leading role in improving personalisation throughout telco e-commerce and empowering in-store staff to do their jobs more effectively.
Having Conversity's IGS tool in place has been incredibly powerful in helping us maintain those all-important connections with our customers. With the Skincare Advisor, we feel we've empowered our customers to browse, select and purchase products with the utmost confidence, while still retaining the human element of the experience that is so important to our business.
Conversity is key to our personalised customer experience strategy. They have helped us create a friction free journey that has significantly increased NPS and engagement with potential customers.
Thanks to the Conversity tool, we have greater insights into our customers' behavior, which has given us an extra edge when it comes to launching new products, updating offers or maximizing cross-sell opportunities. This flexibility is integral to the way we operate, and Conversity has ticked all the boxes in this respect.
Our aim was to guide consumers, to simplify their purchase decision. However, the level of data insights that enriches the digital audience preferences with Conversity's IGS tool is amazing.
Find out how Conversity helps
Staff
Operational staff become more effective and efficient.
Sales
Sales increase conversion, cross-sell and up-sell.
IT
IT staff keep pace with the demands of their business.
Customer service
Customer service personnel meet and exceed expectations.
Understand purchase journey, cross-sell & service mindsets
Our team are experts in guided selling – with 10 years of experience helping businesses give their customers streamlined buying journeys that directly drive conversions.