Customer behaviour and attitudes in telco buying decisions
A new report based on original research carried out by Conversity, examining the habits of consumers when shopping for telco products and accompanying services like broadband and TV packages. We dig deep into the mindset of consumers of varying ages, demographics and income brackets, establishing what you can do as a business to support each customer in making the right purchase and nail those all-important upsell and cross-sell opportunities.

Understand purchase journey, cross-sell & service mindsets by downloading the report for FREE, now.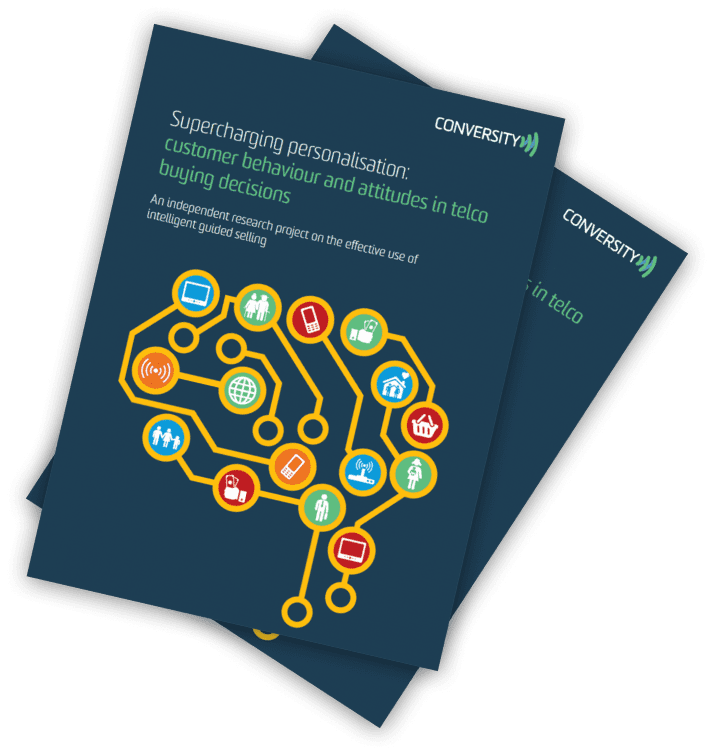 For more information on how we process your personal data, please visit our Privacy Policy.
This is what you can expect to see in the report
Know their habits
Learn more about how often consumers buy new phones or telco services, how they do their research and why they switch providers.
Right time, right place
How long do customers take, how many providers do they consider and what is their preferred channel?
Cracking the cross-sell
Work out what you can do to sell related products and services more frequently.
Go on, seal the deal
What is important to customers in helping them make a final decision?
Personalise, optimise, maximise
How the human touch is far from dead in the telco customer experience.
Enter IGS
How intelligent guided selling can play a leading role in improving personalisation and empowering staff to do their jobs more effectively.

An Intelligent Guided sales solution allows us to interact naturally with our customers and reassure them on their purchasing journey that we appreciate how individual their requirements are.

Daithi O'Connor Founder and Managing Director of Revive Active
The Phone Co-op Business to Business team are now able to personalise their response and solutions when responding to business connectivity requests. The customised lead capture solution was easily integrated and matches our brand guidelines, delivering a seamless client experience and genuine enquiries for sales purposes.
Nick Thompson CEO

Intelligent Guided Selling has been transformational; we have seen a huge increase in customer engagement online helping develop the customer relationship that is critical to our business.

Daithi O'Connor Founder and Managing Director of Revive Active
Conversity understand our target customers, our ethics and our strategy for growth. Their guided selling platform will enable The Phone Co-op to develop better conversion journeys which drive sales and customer satisfaction hand in hand.
Jacci Marcus Head of Residential Business
Find out how Conversity helps
Staff
Operational staff become more effective and efficient.
Sales
Sales increase conversion, cross-sell and up-sell.
IT
IT staff keep pace with the demands of their business.
Customer service
Customer service personnel meet and exceed expectations.
Understand purchase journey, cross-sell & service mindsets
Our team are experts in guided selling – with 10 years of experience helping businesses give their customers streamlined buying journeys that directly drive conversions.